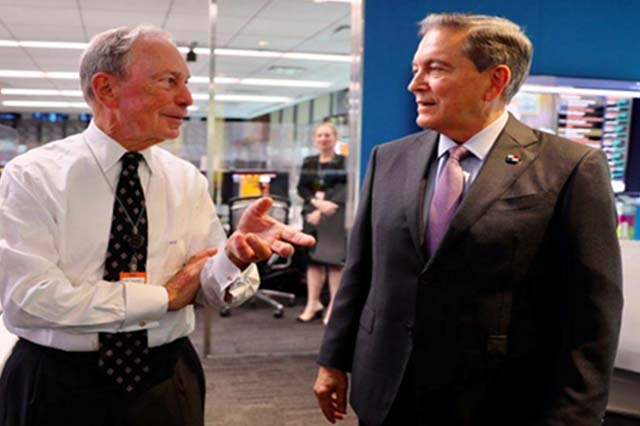 Panama: Setting The Global Economic Tone
Michael Bloomberg and Panama President Laurentino Cortizo discuss economic factors directly impacting the region during last month's meetings at The Westin  Playa Bonita Resort in Panama City.
"I enjoyed meeting President Laurentino 'Nito' Cortizo and discussing Panama's growing role in the global economy as a hub of connectivity and openness", said Michael Bloomberg, founder of Bloomberg L.P, Bloomberg Philanthropies and Bloomberg Media, a leading, global, multi-platform brand that provides decision-makers with timely news, analysis and intelligence on business. Bloomberg's remarks were made when announcing that the 2022 Bloomberg Economic Forum would be held in Panama, the first time the global summit was to be held outside Asia and not exclusively in Singapore. "I look forward to welcoming Panama to the Bloomberg New Economy Forum…as our new Spotlight Economy Partner," he continued.
Two months ago, leaders from around the world, and specifically Central and Latin America, gathered at The Westin Playa Bonita Resort in Panama City to discuss the most pressing issues facing the global economy, including key focal points of finance, cities, trade, climate, and public health.
An Outsized Importance
Panama, like Singapore, holds outsized importance in terms of global economy. As one of only two countries on the planet with a net-zero climate impact, Panama is also a vital shipping route with a stable economy based on the US Dollar. "Panama maintains a highly working collaboration between business and government with a well-balanced gross domestic product (GDP)," said Bloomberg officials when explaining the decision to hold their meeting in Panama.
Propanama, one of the partners working with the Bloomberg organization, is the Export and Investment Promotion Authority of Panama. The business-oriented attitude of Panama's government is, in part, a reason for investment.
One of the most important factors affecting the decision to meet in Panama  was noted by president Cortizo: "Panama has the best air and maritime connectivity in Latin America and the Caribbean, with ports on the coasts of two oceans, a transcontinental railway, airports, logistics parks, special economic zones and free zones."
While it was exciting to be in tight security and among the world economic leaders, it was more exciting to hear the world taking more notice of Panama's promise. With the backdrop of the Panama Canal, attendees were told "Investments in Panama have never looked more solid, even in a volatile atmosphere between a global pandemic and Russia's invasion of Ukraine." It was also not lost on the attendees, many of whom were visiting for the first time, that Panama City is a sophisticated urban hub with incredible food, night life, shopping, a new world-class convention center and cruise line piers, the Smithsonian Institution's 12 Tropical Research facilities, world-class health-care facilities, stunning beaches, and a highly employable workforce, many of whom are bi- and tri-lingual.
Residency and Tax Benefits
Until October 2022, the government will provide an open path for residency for individuals who invest a minimum of $300,000 in real estate as well as several tax incentives. As a developer, Empresas Bern will work with individuals to customize appropriate investment packages, including experienced immigration lawyers and financial advisors.
A lot of opportunities exist in Costa del Este, the de facto business center of the country. Arcadia, the first condo hotel coming on the market and Nogal, a 41-story tower offering one-bedroom units ranging up to 1,410 square feet, join existing properties such as Mattise and Casa Bianca. Residency options, tax incentives and on site-management can be part of the Nogal purchase, but not mandatory.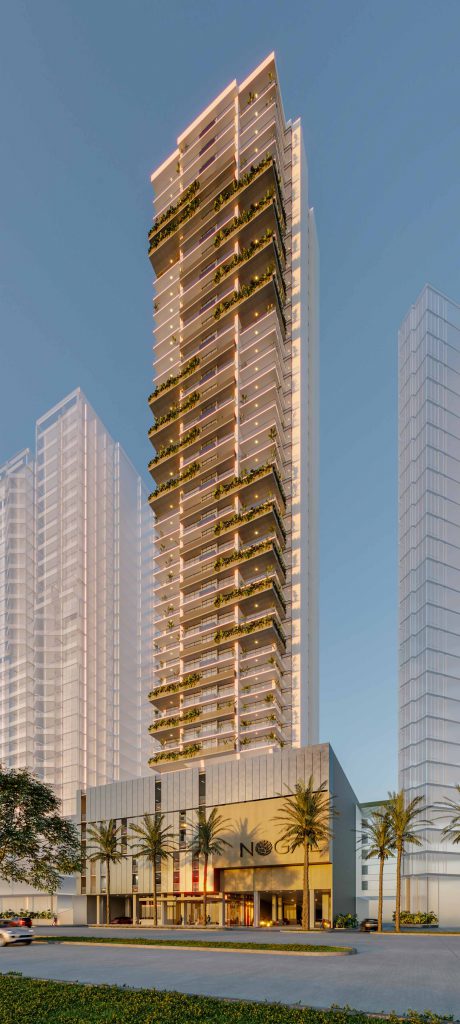 Nogal will offer residents a variety of amenities, from several pools, including one for children, a business office, large wrap around balconies with sweeping views of the Bay of Panama, retail, restaurants, and it's only a few steps from Town Center Mall and the new Johns Hopkins International affiliated hospital.
Whether you are looking for a revenue stream from renting a condo-suite in Costa del Este or a new place to call home, talk to an Empresas Bern professional to help craft a personalized investment package.
It was thrilling that during the Bloomberg meeting, Marriott International announced they would be doubling their properties in Latin and Central America,
including Panama. Maybe their gold-standard marketing research made a revolutionizing breakthrough and we just happen to be part of it!

The world's largest hotel chain, Marriott International, announced at the Bloomberg Economic Forum in Panama City that they would be doubling their holdings in Central and Latin America. 
For more information, check out our website: https://empresasbern.com/
Become an "Empresas Bern Insider" by signing up for our newsletter.
Name: _____________________________________________.
Email Address:_______________________________________.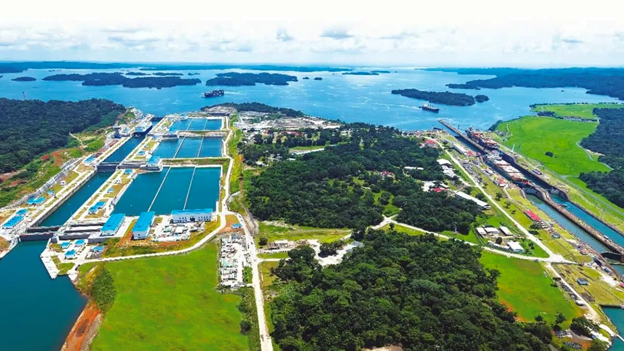 Hint: the newly expanded Panama Canal.