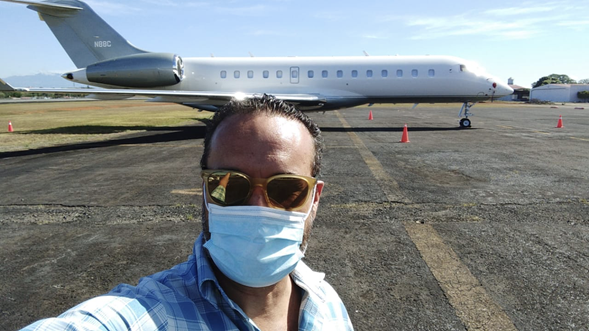 Flying Under The Radar In Panama
I wasn't especially surprised when I saw the yacht anchored just off the Chiriquí Province in the Pacific Ocean. When a second showed up I was more intrigued especially as it was immediately apparent these were bigger and obviously more luxurious than most. We have plenty of yachts in Panama Bay moored along the urban coastline of Panama City but it's not every day we get two yachts, each valued at over $160 million along with a $70 million private jet parked at the International airport in David. 
Like any curious bystander, I took a selfie and wondered if we were having an influx of the rich and famous along the modest coast and the border of Costa Rica. I learned the yachts belonged to Lorenzo Fertitta, who made the bulk of his $2 billion dollar fortune as owner and developer of the Ultimate Fighting Championship (UFC). Maybe a "Rumble In The Jungle" was being planned, but this time in Panama! We did have three seasons of "Survivor" filmed here.
What You Don't Know About Panama
There is so much about Panama of which most people are unaware including the fact numerous celebrities are in and out of the country on a regular basis. There are accommodations that modestly start at $8,500 a night with a seven-night minimum in high season and go north to $20,000 a night. Islas Secas advertises "Fourteen islands, only 24 guests, 20 miles from civilization," https://islassecas.com/. Getting there will be either by boat or plane. And, if you want to rent one of the yachts, the current fee is $2 million a week. Just ask Beyonce and Jay Z!
Angelina Jolie and her family love the Canopy Lodge in El Valle along with US President Jimmy Carter and Sir David Attenborough. Pierce Bronson claims he finds "Panama exhilarating" and the location of his "best lunch" ever. Morgan Freeman, Miley Cyrus, Matt Damon, Justin Bieber, and Arnold Schwarzenegger have all enjoyed the "live and let live" attitude of Panamanians. If they enter Panama via the Tocumen International Airport, they are generally treated like any other foreign national and I've never seen paparazzi hanging around totting cameras.
World's Best Fishing
One thing that generally surprises people unfamiliar with Panama is the fact we have the "World's Best Fishing" according to everyone from the Robb Report to the International Association For Sport Fishing. The Tropic Star Lodge https://tropicstar.com/ enjoys a long rich history and holds more international fishing records than anywhere on the globe. Some people say George H. W. Bush ordered the downfall of Manuel Noriega because he loved the Tropic Star Lodge so much he wanted to make sure it was protected. For Bush, that included the staff and indigenous people who lived nearby and received schooling at the Lodge. Today the Lodge is just as amazing as it was fifty years ago but one of the nicest things is that it is affordable for families. Not inexpensive, but with fishing, meals, and all activities included, along with the Kids Club, it can be experienced.
Not Just The Best Tourism
It would take me days to go on and on about the various high-end glamping experiences, out-of-the-way hideaways, stunning over-the-water accommodations, the rugged adventures, the all-inclusive holiday options, and the urban sophistication of Panama City, but let's stay on what is "World's Best" in Panama. Panama is the center of the universe when it comes to Tropical Research. 
For over 110 years the Smithsonian Institute has maintained various facilities in Panama that provide opportunities for scientists from around the world to study everything from bats to climate change. Currently, there are 40 staff scientists located in the 12 facilities in Panama and they host more than 1,000 researchers from around the world who are working on approximately 350 running projects. https://stri.si.edu/. Fortunately, according to the Smithsonian's website Panama provides "a world-class platform for research in the tropics …which can last for at least another 100 years".
Proud Of Panama
I am rightfully proud of my country and know it is unique in so many ways. This is my beloved home and I want to keep it special for anyone who might want to visit, invest in or move to Panama. I have helped build the skyline and will continue to develop this small country for many years. If you have an interest in Panama, I'd love to discuss it with you. Reach out to any of our sales professionals or drop me a line at [email protected].